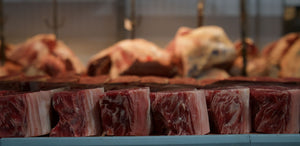 chef's gold
The creation of Chef's Gold™ is rooted in the desire to impart Pure Age™ flavor to cuts that don't lend themselves to aging or to enhance the experience of Pure Aged™ beef.
The combination of our efforts to source for quality and the countless interventions we make at every stage of the process results in pure dry aged product.
The process begins by isolating a singular fat, chosen for its unique brittle composition. Once segregated it is hand-trimmed, ultra-fine ground, formed, and then Pure Aged™.
Chef's Gold™ serves as an improvement over conventional demi-glazes or other basting methods, for those looking for an authentic beef-eating experience.